---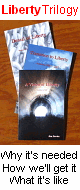 11A088 The NATO Shell-Game by Jim Davies, 3/30/2011

War's over! Great news, delivered Monday by Obama himself. "We" had to intervene, to prevent a massacre, and we have done that, and now we withdraw and let our NATO partners take command and call on us when they need us. This was a quick military strike that saved thousands of lives, but now it's finished. He did avoid using the phrase "mission accomplished" for some reason, but that's in essence what he said.
So I Googled NATO. It stands for the North Atlantic Treaty Organization, and the USA is a charter member. So who, again, is now in charge?
That's a question well posed by a Telegraph article yesterday. The FedGov funds 22% of NATO's budget, nearly as much (it says) as the next two members combined. Command in Libya is exercised by a Canadian, who reports to an American admiral, who reports to another American, who reports to Obama. So in what sense, exactly, has the FedGov handed over any control at all? In what sense has this war ended? Now you see it, now you don't.
The other weakness in the well-polished Presidential speech was the matter of where it's allegedly right for the FedGov to intervene. Mr Obama anticipated that one, by acknowledging "there are many places in the world where innocent civilians face brutal violence at the hands of their government, and America should not be expected to police the world." Amen to all of that. I wonder why governments so often brutalize innocent civilians? Might it be that government is an entity that always and necessarily brutalizes people, in one degree or another? - but we do agree, Obama and I, that America is not the world's policeman. That is a big advance, because for half a century successive FedGovs have behaved as if it certainly is.
So, why Libya? Why not Darfur? Why not Côte d'Ivoire? Why not Rwanda, a few years back? Why not North Korea, where starvation is about to afflict a third of the population next month? These are not just my questions, they are Obama's own. He asked them in his Audacity of Hope, according to the Telegraph, when seeking election. And his answers, on Monday, were not at all convincing.
Tell you what. Instead of stringing a large military force all around the world to police it while pretending not to, let's just work on the problem - that government is in its nature a venomous, pestilential idea - by ending its existence. Here first, of course. Then the rest of the world can do as it pleases, but the odds are very high that the other 150 countries will follow our example, and get rid of theirs. Then the only hazards mankind will face are the natural ones, of weather, disease, quakes etc. - which are bad enough, without governments to make them worse.
Your feedback, please!
Had enough GOVERNMENT yet? www.TheAnarchistAlternative.info

---