23A039 Has the War Been Lost? by Jim Davies, 9/26/2023
I refer of course to the proxy war in Ukraine. It was cunningly provoked by the FedGov - the second most clever war it has ever waged, I must admit, as well as the most dangerous - but apparently, it's in stalemate. The Russians are not invading the part of Ukraine where residents would prefer to remain Ukrainians, and the Ukes have proved themselves this Summer incapable of breaking the strong defensive line erected to protect those who prefer to be Russians. Meanwhile the Ukes are on life support, and the flow of NATO weapons is gradually drying up.
European NATO "allies" are ending their support for those losers - even, at this writing, the BritGov, the most subservient of them, which has declined to send more Challenger tanks to the Ukes after the first two were ignominiously destroyed. Only the Biden Gang itself is proclaiming unceasing support for the Ukes - willing, as many have observed, to prosecute the war "to the last Ukrainian."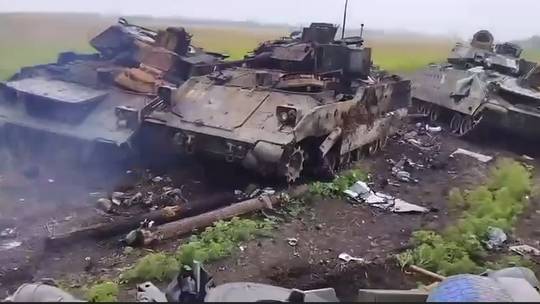 But to say it is "lost" (as it obviously is) may be missing the point. In the perverted perception of the Biden Gang, the actual objective of the War is to exhaust Russia. They care little what happens to Ukraine, they want only that Russia spends so much on its war effort as to implode. That's the precise purpose of the enormous list of "sanctions" by which they hope to strangle all cross-border trade with Russia and so bring it into line, as part of the US hegemon. That too is a weapon of war, and that too has failed: the Russian economy took a hit, but this year has grown, not shrunk.
That "war aim" is breathtaking. In its unprecedented arrogance, the FedGov is causing hundreds of thousands of young Ukrainians to lose their lives - and some Russian ones too - at quite small cost, simply so that its worldwide power and influence will grow a bit larger. That's what this war is for!
On current evidence, it won't happen; the Russians have absorbed the shock of multiple trade embargoes ("sanctions") as well as the need to ramp-up the manufacture of armaments, while at the same time forming alliances and trade agreements with China, India, Brazil and others; openly working to create a free trade area ("BRICS") which may bypass the use of the US dollar in favor of a new international currency. The Biden Gang's aim of enveloping Russia in its own zone of influence is therefore poised to backfire dramatically.
As part of its outreach to non-aligned countries Putin has even proposed trade with North Korea - a deplorable action, though if NK has weapons for sale that Russia urgently needs, the temptation must be powerful. Should that result in a stronger, even more heavily-armed NK ruled by an obvious and vicious psychopath, the prospects for peace on the Korean peninsula will take a steep dive. This is one more unintended consequence of the FedGov's insatiable greed for power.
The lunacy can be ended at any time, quite easily; Donald Trump has said for example that if re-elected next year he will do so in two days, possibly before he even takes office. All that's needed is for the FedGov to stop shoring up the Ukrainian need for weapons, and to instruct its pals in NATO to do the same - which it's clear that most of them are very ready to do; that country will then fold. A quick visit to Moscow will suffice to draw up generous terms of peace, underwritten by you and me, and the job's done. The means are simple and ready; what is currently missing is the will.
Suppose that good outcome does come to pass, so ending the existing great danger that this proxy war escalates into a nuclear WW3. That would not end the FedGov's "will" to increase its power; it would just delay or postpone it a bit. A year or three later, it will resurrect and be applied in some other way. The whole nature of governments is to maintain and increase their power; the idea of a government that does not do that is a contradiction in terms. There is no possible alternative to ending their miserable existence altogether, for if that is not done, they will eventually end ours.