---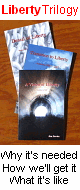 10A051 Never to Die by Jim Davies, 10/23/2010

Yesterday you may have noticed the fiftieth edition of this Zero Government Blog, so I hope you'll allow me a small celebration in this fifty first; with a nod to Monty Python, here is something completely different. Or nearly so.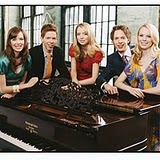 If you follow music closely perhaps you've already "been there, seen that" but I had not, so when the 5 Browns showed up last night on my TV screen I sat there entranced for 60 full minutes, and just have to tell you about it. They are five siblings born between 1979 and 1986 to Keith and Lisa Brown. Each was given piano training from age 3, each later qualified for the Julliard School - they were the first family of five ever to attend it at once - and now they perform concerts together with five pianos, with which they are ten-handedly rescuing real music from the wasteland of hip-hop. As the New York Post enthused, "One family, five pianos and 50 fingers add up to the biggest classical music sensation in years…When these kids do Rachmaninoff, they'll make you forget about Marshall amps." PBS concurs: "The most notes you've ever heard in one night."
See and hear them to believe this; I've never seen their like. They make their own arrangements, perform in perfect harmony, with nary a score in sight - or none with pages turning. They seem to have one mind, as sometimes identical twins appear to have; except they are five, not two. There are three sisters and two brothers, beautiful or handsome as applicable, and their enthusiasm in infectious.
Catch some of their music via YouTube - a clip during which they say to Teenink that they were home-schooled and glad of it, and that religion (the family is Mormon) was "no big deal." A longer portrait (though with a misplaced apostrophe in its first line) by HubPages contradicts the latter, so you choose; either way the result is a magnificent tribute to the human spirit and a demonstration of what parental upbringing - and extraordinary genes - can do. If you do visit Hub, drink in their amazing version of Stravinsky's Firebird Suite before leaving.
Humanity is about excellence, achievement, invention, spontaneity, progress, beauty. In the broad sweep of history, what endures? - a record of the blood spilled and artefacts destroyed by governments in their interminable wars, on the one side, and art, notably sculpture because of its material, and especially music - which "alone shall be / never to die" - on the other. The 5 Browns are writing a new page of our species' grand story; this is part of what life is for.
Your feedback, please!